Dominic Johnson-Hill – known better to his Chinese fans as 老江, or Old River – is, if you tune in and watch telly in China, one of the few ubiquitous figures to cut a genuinely compelling form on the screen. His height alone at 6 foot four is enough, but his clean-shaven head and intense features bring him a sense of presence that, his fluent Chinese notwithstanding, has made him a director's choice over the years and allowed Dominic to be considered something of a famous name in recent years in China.
Behind his presence lies a driven yet warm demeanour, presaged with a quirky, stubborn humour which perhaps belies the prolific creative strength of his Plastered brand, today almost a byword for Beijing's indie artwork aesthetic.
This week, Dominic shares with us his China, in his words.
I arrived in China in 1993, age 20 with a backpack and a few hundred dollars to my name. I would never have guessed that my China adventure would still be going today. It's been a wonderful example of being in the right place at the right time - witnessing an economic miracle. 24 years have passed so quickly – and the pace of change in China is hard to keep up with at times. Economic reform of what is soon to be the world's largest economy has meant that I have been pulled along at lightning speed with opportunity at every twist and turn.The movement of 600 million people from China's countryside to its cities, the Beijing 2008 Olympics, revolutionary high-speed trains, and new city skylines – so much has changed and I'm grateful to have experienced it first-hand.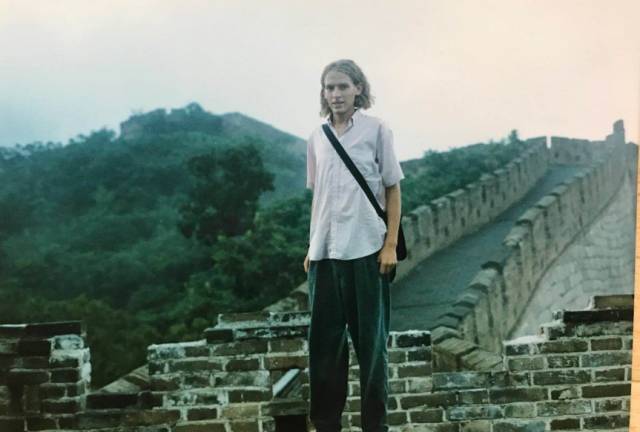 A somewhat underweight Dominic in 1992, newly arrived in China
Keeping pace with the country, I've had my share of adventure and opportunity in China. In 2006 I started my own clothing and design business, which has thrived in the Beijing creative scene, even resulting in my regular hosting and participation in television programs and events.
There's a picture of me when I first came to China in 1992. I'm standing on the Great Wall looking anorexic. I had just arrived from India to come visit my older brother in Qingdao, where he worked for a tobacco company. I was alone in Beijing however and I needed to make some money. At the time I didn't like Beijing and I didn't see it's beauty but I had to earn and so I moved to a homestay with a Chinese family. Foreigners lived in hotels then because they weren't allowed to rent but at that time I found this place. The room I had was tiny, there was a glass partition between me and the dining room, no door on the toilet, and on the first morning, I awoke at 6 am to find my host family watching me sleep.
Living in east Beijing, close to where the 3rd ring road was soon to be built, I was the only foreigner and was something of a local celebrity – I was invited by all sorts of local business owners for dinners on a regular basis. It was easy to get jobs – recruiters would visit one of the two places in Beijing where one could go drinking – and I started teaching English, and coaching rugby, and pretty much anything else that came my way. After 18 months I got a job working as an interpreter for a pair of Irish chaps who were dealing in horses in Inner Mongolia. They were hard drinkers and would often get into fights at night. We were three hours drive from the nearest telephone, and on top of that, I was paid 500 yuan per month. I would stay the term, however, and got out of Mongolia before the winter hit.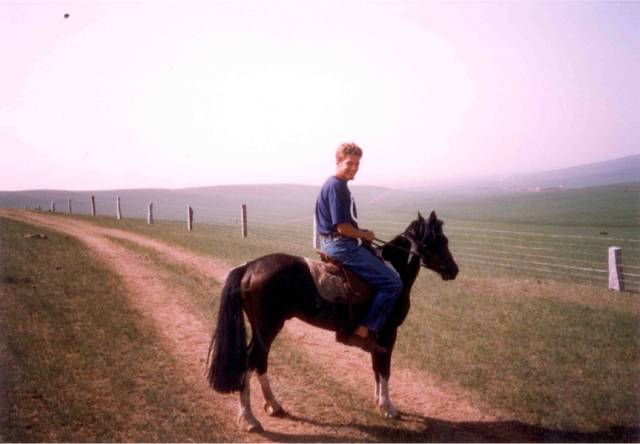 Inner Mongolia: "We were three hours drive from the nearest telephone, and on top of that I was paid 500 yuan per month"
I was lucky on my return to Beijing – one of the heads at a company where I taught English asked me if I wanted to perform a little market research. Pretty quickly I realised that there was a niche here – no one was doing this, and in1995 I set up my first business, which consisted of arming taxi drivers in various cities in northern China with fax machines, and tasking them to travel between roadside stores, noting cigarette prices and sending the data back tome. It was fairly inaccurate but within months I was covering 22 cities between Qashqar and Dongbei, selling the data to Tobacco companies and making myself anywhere between 10 and 15k USD per month.
Once I was set up I only needed to travel 5 days out of the week. I had no interest in numbers, no interest in spreadsheets and no interest in research but it was an opportunity and until 2000 I would take the money and use it to travel to anywhere I wished to visit. I later was asked to visit Russia, Pakistan and India, and even a couple of trips to North Korea. It was a crazy time. I was single, rich, and couldn't believe my luck.
I had failed everything at school, and all my friends had got their grades and taken jobs in banking. I felt inferior. So I took myself to Africa at 17, where no one compared me, and I only had to look after myself. Bear in mind, these were the days before the internet, so I could only send letters home. I do remember one occasion when I had the chance to call home, however. My mother answered during a dinner party. 'Oh, Dominic! How is Zimbabwe?' She asked. 'No, Mum, I'm in Bolivia now.' I clearly remember how the whole party were in fits of laughter, most likely at my roaming tendencies. Looking back, however, those first days of independence were some of my best education.I had only myself to rely on. I worked at a bus stop in India, charming tourists into stopping at the hotel there in exchange for a place to stay and a warm meal. I worked at a Chinese restaurant in La Paz. This had me in the mindset of doing whatever it took to get by.
China in the early 90s was a different place. In my opinion, the change from 92 to 2000 was far bigger than anything we see today. Any twit could have made money then. It was all, 'hey, do you fancy doing a bit of this? I'd never be qualified back home but here the door was wide open to become an entrepreneur.
In 2000 I bought a motorbike with the intention of riding to Cambodia but I had fallen in love with a writer from Shanghai, and so that was where I ended up, playing nights as a DJ, and we had a child together. But I didn't like Shanghai– the life there just didn't work for me. We went travelling around the world for 6 months and then ended up in Beijing. I was doing odd jobs, as well as helping a language learning centre set up their training operations. In 2003 I moved to Nanluoguxiang and, one day whilst having my hair cut I said to my barber, 'I'd like a shop here.' It was a throwaway comment but days later he came in whilst my wife and I were eating dinner – he had found me a small 30sqm premise. I had no idea what to do with it but my wife said, 'Just take it, we'll figure out what to do'. Well, every day for six months I would leave home but avoid turning right because I didn't want to pass the empty store. My neighbours would ask me regularly what are you going to do, but I had no idea.Then one day, whilst out walking, inspiration hit – I passed a tourist on the street wearing an 'I climbed the Great Wall' T-shirt. I thought I can do that! I had no experience in textiles or the like but that didn't stop me. My style is rarely strategic and definitely impulsive but in what was an unregulated economy, people who roll with things can really flourish.
Zhi Lai Zhi Wang was a massive game changer for me. I was suddenly getting recognised by Chinese folks outside of China. For me, I would take any opportunity and when they said could you come to Jiangsu (it was Jiangsu TV) and be and I jumped at the chance. When I got there-there were 18 of us judging these contestants on their career attitudes, and they had to pay the audience to attend.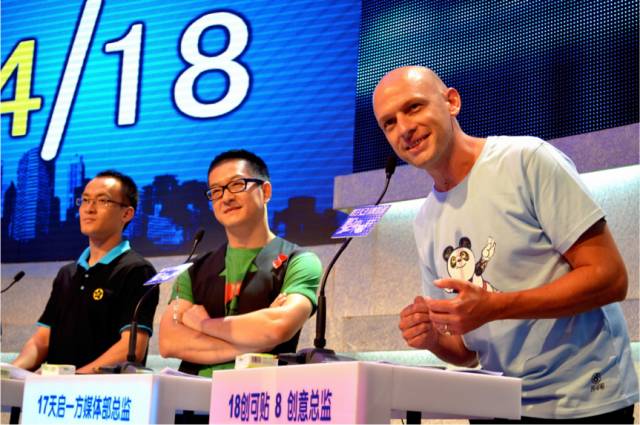 Dominic as a panel member on Zhi Lai Zhi Wang
After filming I asked about the show and they said, oh, this is just a pilot. I thought, oh crikey. But then they called me back and the show went into full production. Two years later I would be leaving the studio and there would be fans standing there waving photos of me. I had the forethought to rep my business on the show and even if the fans didn't know my name they would know me as the guy who owed Plastered – my T-shirt business, which had become a household name. At the same time, Nanluoguxiang had suddenly gone from an alleyway to a retail street with a daily throughput of 100,000 people. My story of a foreigner living in a courtyard in the hutongs, with his wife and kids and a business running from 30sqm was media friendly and before you knew it I was on chat shows and the like.
Today, many people say to me, well, you speak the language and you're on the telly, but before all of that I had had my struggles – including a few bankruptcies –and it wasn't plain sailing.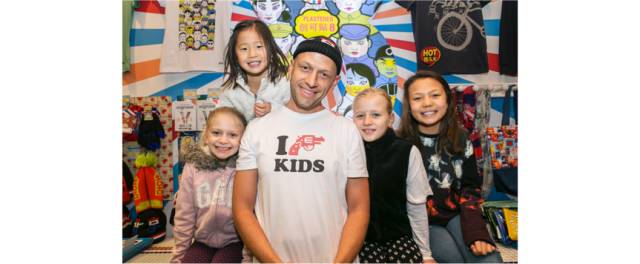 Dominic with his four daughters in his Nanluoguxiang Plastered T-shirt Store
I have stayed ahead of the game by being creative and responsive. I don't have many creatives in my business, it's mostly me who has the ideas. As I see it, if you apply yourself and if you're not scared of regulation or bureaucracy or ruthless business environment, then China is a playground for entrepreneurs. Not only that, but I have managed to fall in love, have 4 beautiful daughters – I have just been exceptionally happy in these past 20-plus years in China.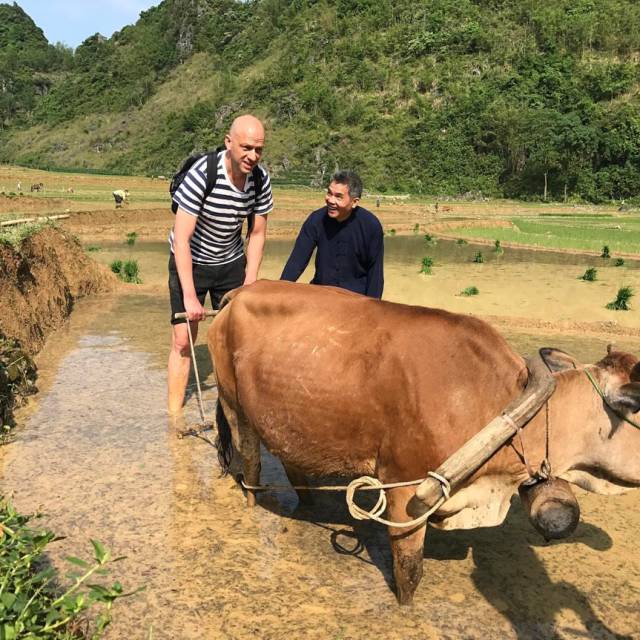 On set filming an episode of China's 24 Seasons
For the future, I shall continue to wing it. As long as I work hard and stay inspired, that the ideas will continue to flow. From 'Canned Beijing Air' to 'Pollution snow-globes'. This year I have travelled to 24 places in China to experience 24 seasons as part of this forthcoming documentary series – life just does not cease to surprise me. Every day I open up my Wechat and wonder, what's going to happen today? Every day something happens. When I go out from my house, there's always something that has changed. Me? I'm restless and totally ADHD (sic). For me, this is the best place to live always as there's always something inspiring and ideas jump out at every turn. Although things are often unstructured, I don't really care - I grab an idea and run with it, and I am sure to have a good laugh. I am going to do that until I can't do it any longer.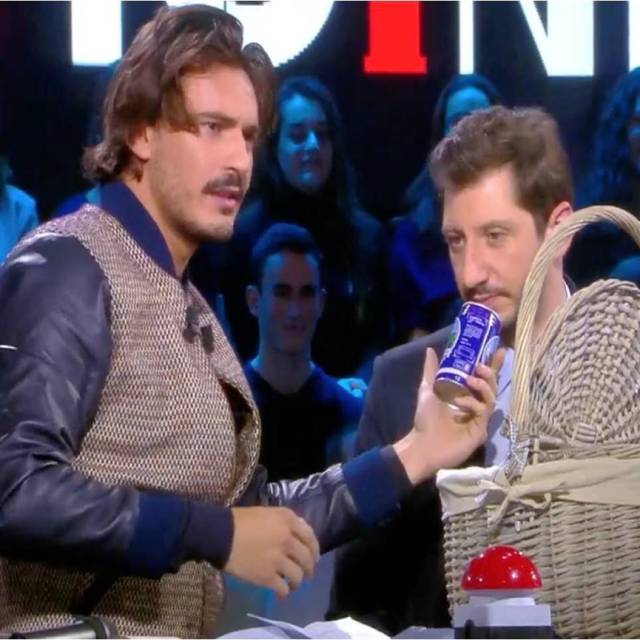 One of Dominic's most popular products, Canned Beijing Air, on French TV show Emission d'Antoine
I am a small businessman. I respect everyone I meet - it's important. I do business with nice people - from the tailors of my T-shirts, to the artists who create the designs - we have good fun along the way. I stay open, and one of the things I love most is learning with my family. I continually welcome adventure into my life.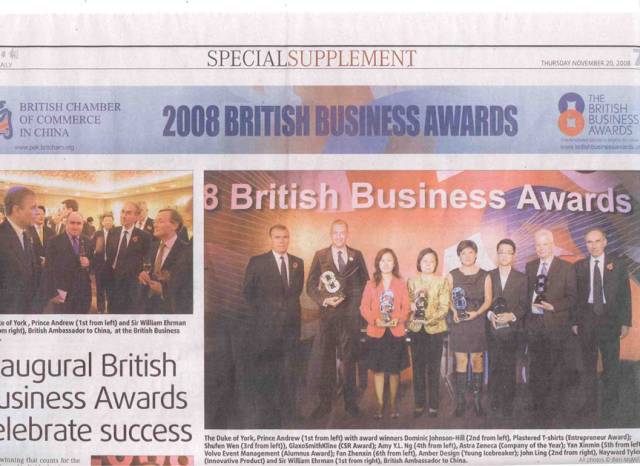 Receiving a British Business award in 2008, where Prince Andrew received an unforgettable lesson in Etiquette
Playground. Adventure. Total foreign culture. Incomparable, they had been cut off for so long and then opened up again which I find exhilarating. History is incredible and inspiring. When you look back at what it has been through and what it has done in 3k years incredible to think how innovative they have been and how creative they have been. From pottery to bronze to artwork to cuisine to their etiquette and pragmatism. Nothing that can really shock people here. They just get on with it.
I don't want to sound too nationalistic, but I am optimistic. It's a pragmatic country and they (The Chinese) want to do business. China's biggest resource is it's people – they are basically 1.4 billion entrepreneurs. Now, they are opening up to the world and today, via new projects such as the belt and road they are connecting to their neighbours. China is a model that has taken 700 million people out of poverty.
Today I visit the remotest parts of China to film 24 Seasons, and I see this entrepreneurial mind-set being unleashed all over the world – beginning with rural homes connected to Wechat. The future is bright, and China's model is a gift to the world economy. If you want to compete then you just have to be smart – there are some brilliant entrepreneurs in China. You throw a stone, and you'll hit an entrepreneur in this country. So be a better entrepreneur! I respect them (The Chinese) for that, and I earn their respect back with smart moves.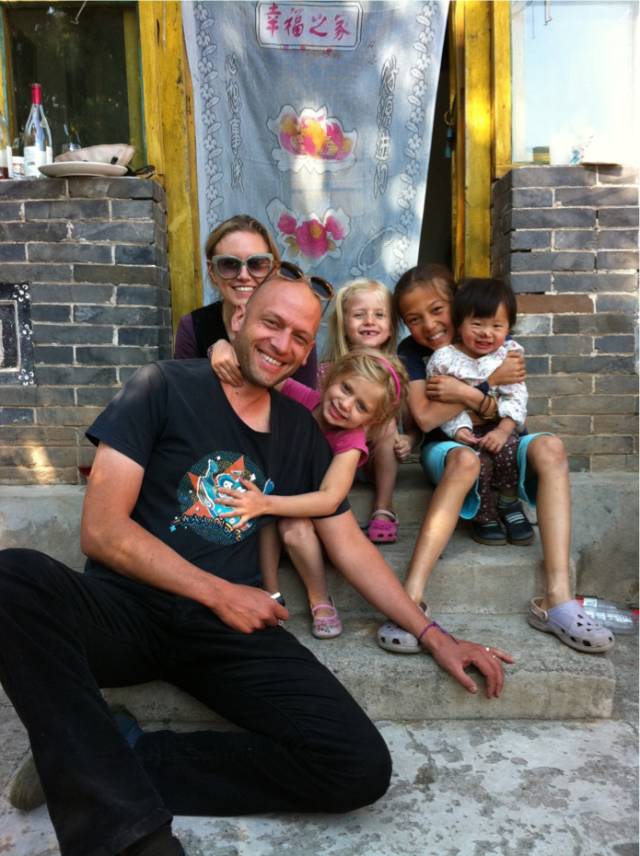 My rock, my lovely family