When I think about my connection to China, it really seems like it was predetermined by fate, or as the Chinese call it, yuanfen.
My father was an exceptionally gifted man. He was a piano virtuoso and a professor at Odessa National Academy of Music. A visiting Chinese pianist once heard him play and captivated by his talent. He invited him to come and teach piano in China and before long, my family was aboard the Trans-Siberian train, destined for Wuhan.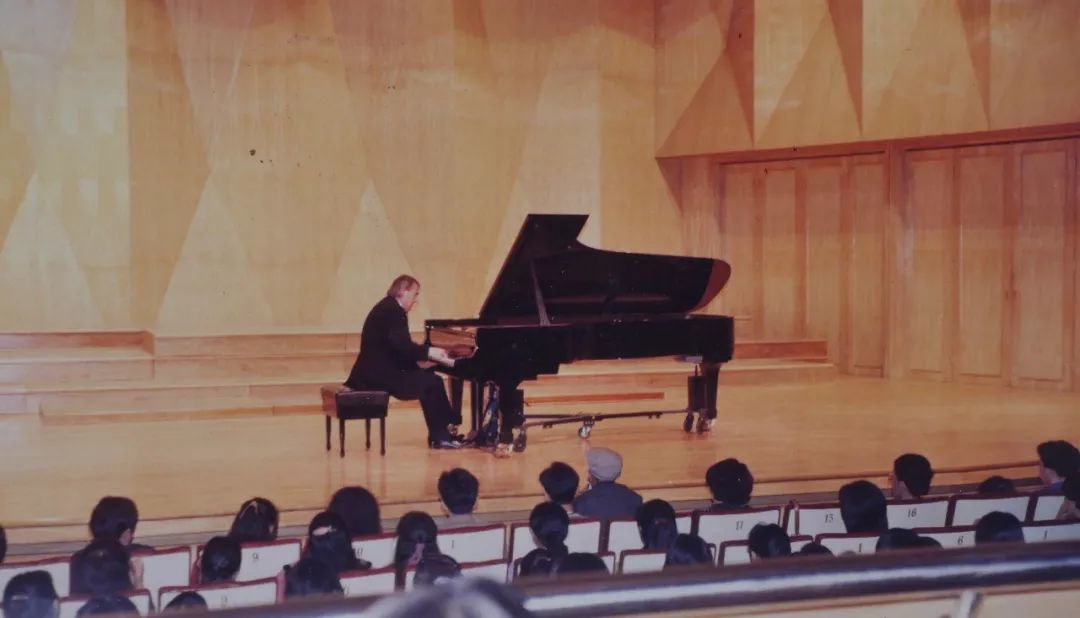 My father, Alexander Mykhailovich Bugayevsky, giving a concert at Wuhan Conservatory of Music.
I remember that train ride vividly. It was so much fun for a young girl to wander from carriage to carriage and meet so many international friends for the first time. The occupants would always welcome me in, especially the Chinese, who treated me with utmost excitement. I also remember Chinese-made goods, such as sweaters and leather coats, being sold from the train windows at every stop. The Soviet Union had just collapsed, Russia was in decline, and many locals were lacking basics essentials. These Chinese goods were in great demand, to the point that Russians would line up and, literally, fight for them at the train stops.
After 9 days on the train, we finally arrived in Wuhan. It was an ancient city on the yellow river - the cradle of Chinese civilization. It is also one of the hottest cities in China, often being referred to as 火锅 - melting pot. Not only the weather seemed hot in Wuhan, but also the attitude of the Wuhan people, who were extremely friendly and accommodating. There were very few foreigners in town, and, according to the standards of that time, we were treated generously, housed in a two-room apartment with a piano.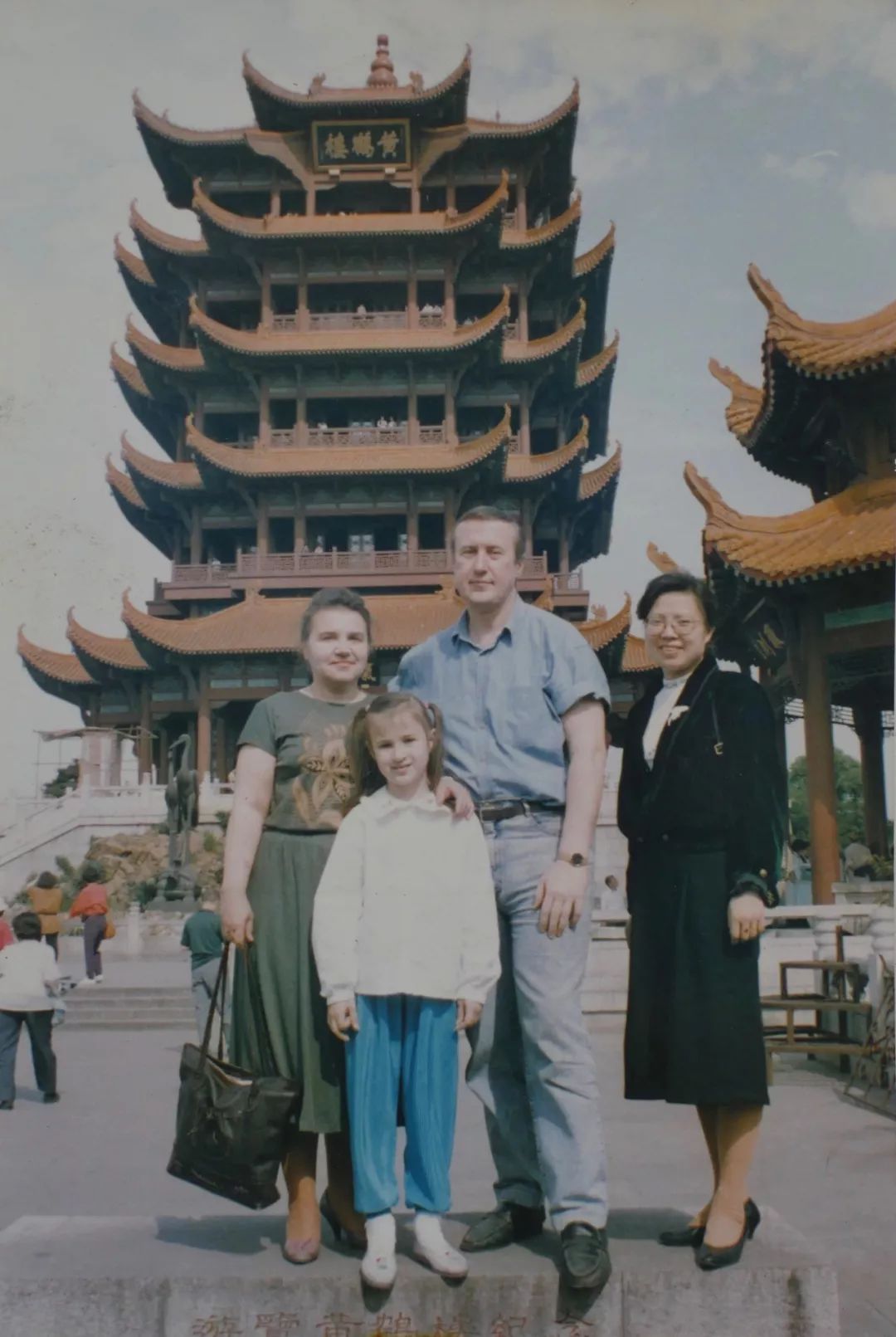 My father, mother, and myself. Newly arrived in Wuhan and standing in front of the famous Huanhelou - Yellow Crane Tower.
In many ways, we lived like locals. I remember using food tickets for meals in the canteens, instead of the money. Different color tickets were exchanged for different types of food - one for meat, one for vegetable, etc. Everywhere I went, people would come up to me and grab my face, squeeze my cheeks and play with my hair. Surprisingly, I took it quite well. For an eight-year-old, it was rather entertaining.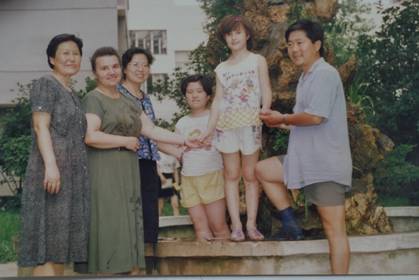 Always the center of attention.
My parents hired a Chinese nanny, Xiao Xiong (little bear), to look after me on a regular basis. She was a very lively and sincere woman from rural Hubei, who did her best to amuse me. She would often take great delight in bringing all manner of exotic critters and creatures, such as tadpoles, golden fish, silkworms, you name it. One time she even surprised me with a scorpion!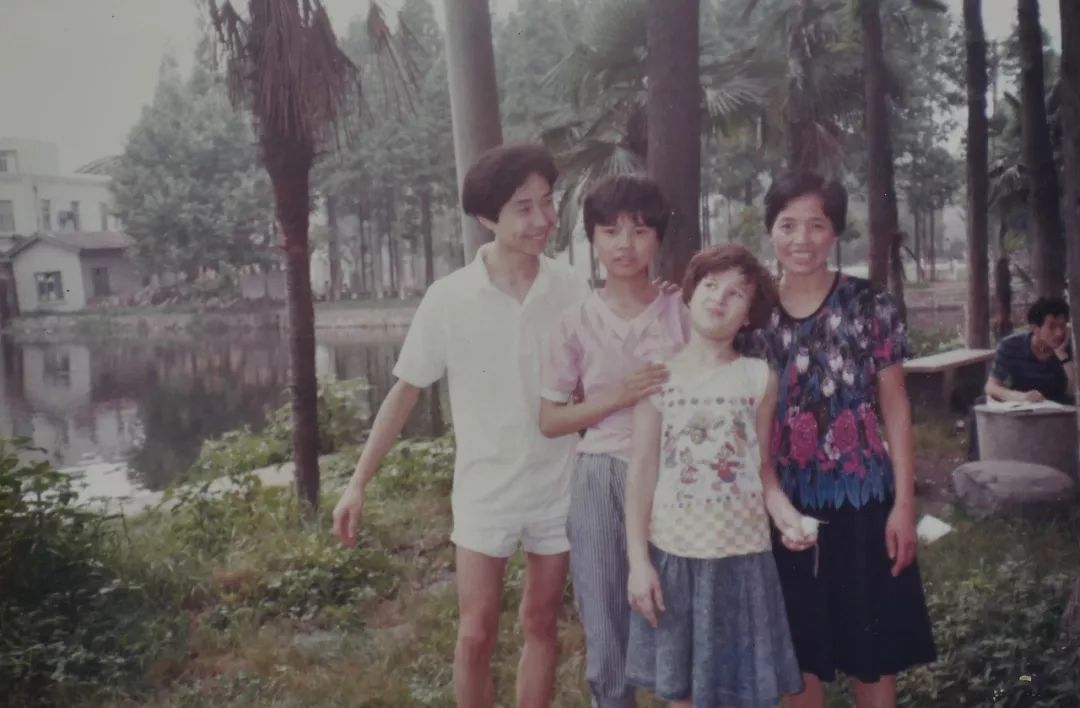 With my nanny, Xiaoxiong, and her two children.
Note my ever-present pet mouse.

I kept a mouse and a rabbit that she brought me as pets. My fondest activity would be riding the bike around the conservatory roads with my mouse and rabbit by my side.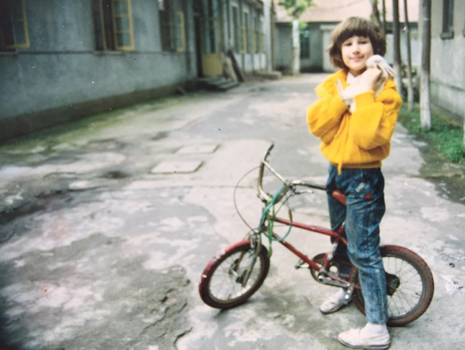 I was raised in an environment full of joy, hospitality, and friendliness created by the unreserved attitude of the Chinese locals. My father earned 1,500 yuan per month, which was considered good money back in the 90's. We lived comfortably, although it was hard to find western essentials such as bread and good quality dairy products that we were so used to.
Life in China was much different back then. There was a lesser variety of goods in shops and people were poorer, but the streets bustled with local spirit. I remember often seeing old men selling strings of mice tied by the tail, vendors offering all sorts of peculiar snacks, and toys on every corner. Those unforgettable, buoyant holiday celebrations with ear-piercing, soul-shaking sounds of the firecrackers, engaging traditional games, dances and activities, many of which are now the thing of the past.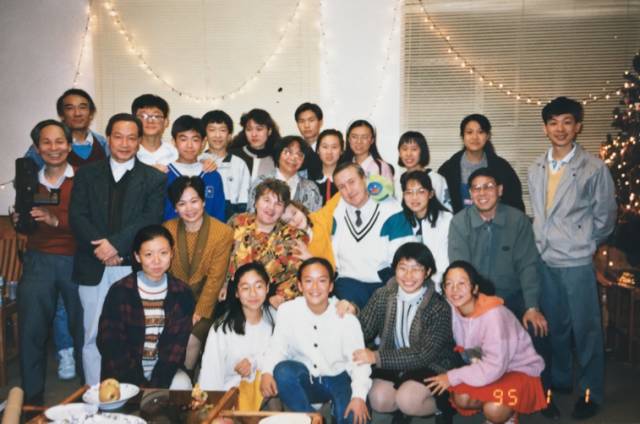 In Guangzhou, celebrating my fathers birthday together with the conservatory teachers and my parent's students.
In '94, we moved to Guangzhou, a more westernized and developed city than Wuhan at the time, and a much bigger concrete jungle for us. It was a different experience. School in China influenced me profoundly. Studies were tough but I was able to adjust quickly. I remember waking up at sunrise to be on time to sing the national anthem with the rest of my schoolmates in front of the rising flag of China. Classes would start at 7:30am and finish at 6:00pm. There would be a two-hour break at midday, during which we were required to give ourselves a face and head massage, following the instructions of the radio broadcast – a very soothing Chinese procedure, which always looked forward to.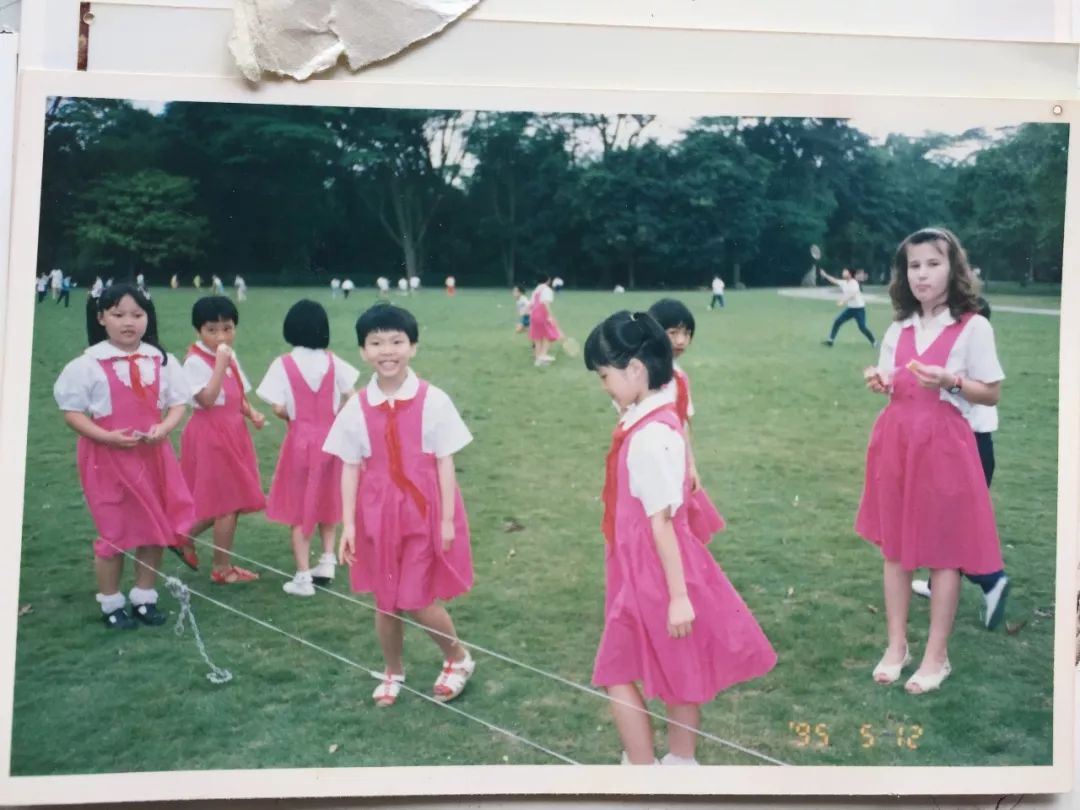 Enjoying a school-organized outdoor activity day with my classmates.
I was the only non-Chinese among 60 students in my class and I was also the tallest. Many kids would come running from other classrooms just to look at me during break time. They would slip letters under the classroom door, asking for friendship. They would come to me and say: "you're so beautiful; can we be friends?" Of course, I enjoyed such attention. I also felt this very frank attitude, and a sense of togetherness that connected us all.
A few years later, upon returning to Ukraine, I had hard times adjusting to school life back home. I felt out of place amongst my peers, who were preoccupied competing in looks and material matters. I would adopt the same approach to making friends as I had learnt in China, but would often be treated with a cold shoulder for being too friendly. That was a tough stage which took a while to overcome.
Since then, China had become a "country of pursuit" similar to "dreamland" for me. I would find ways to stay connected with the Chinese community in Ukraine. While studying bachelors in international relations, I worked as a translator and assistant to Chinese students. Very soon I was referred to as a "China girl" by people who knew me. I found great joy in introducing Chinese students to my Ukrainian friends, organizing parties, and contributing to the process of the intercultural exchange. Back then, the majority of Ukrainians knew very little about China and its people. They were mostly guided by exaggerated misleading stereotypes.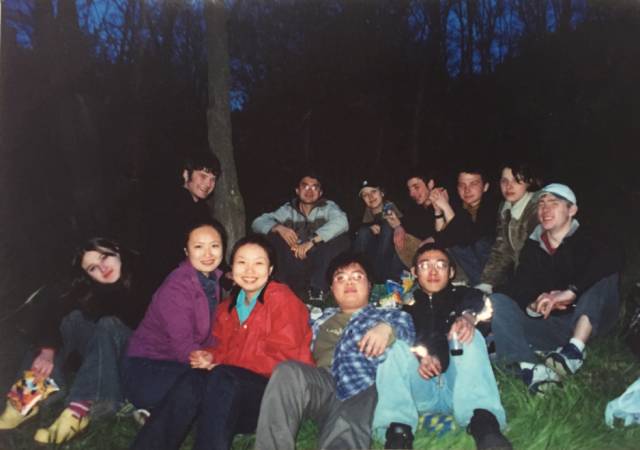 A BBQ picnic with my Chinese friends back in Odessa.

I had a growing passion for Chinese culture and arts and was ready to return to China. The decision was made after my father's sudden death from a brain haemorrhage. In 2004, together with my mother, we arrived in China again.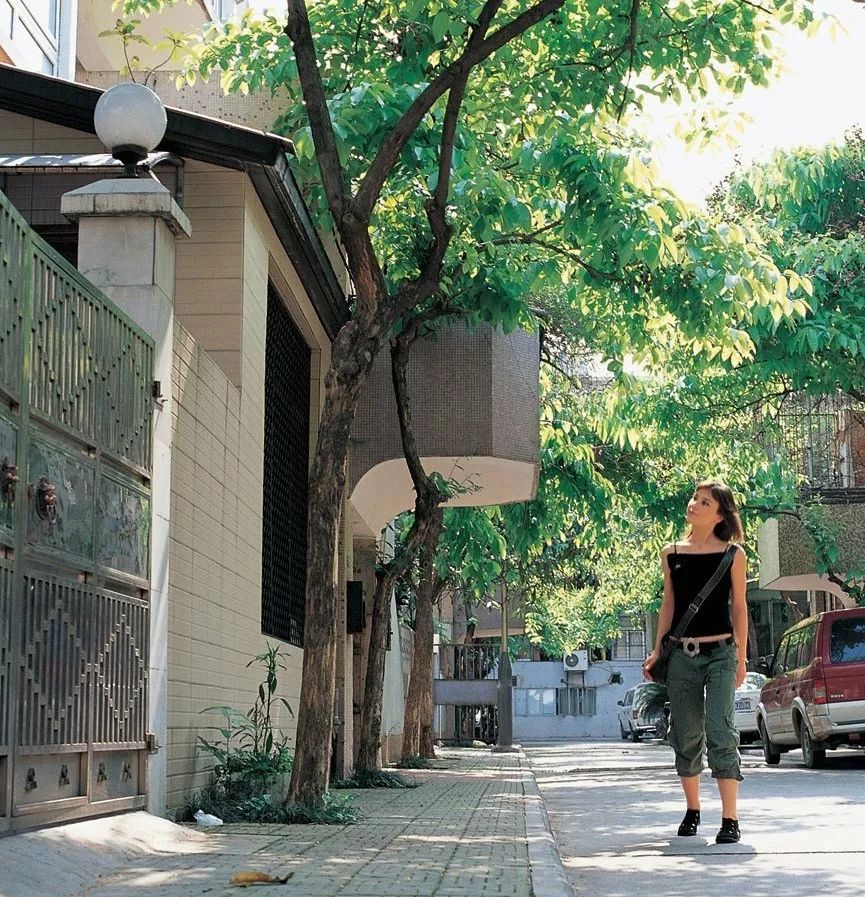 Newly arrived in Guangzhou in 2004.
I studied woodblock printing and Chinese art at Guangzhou Art Academy. Professor Cai Yuhua taught me how to work with wood and carving knives and further motivated me to creatively express my cultural background using this traditional medium. I enjoyed making images which combined eastern and western elements in which the reality and myth coexist.
Woodblock prints I made in Guangzhou.
In the meantime, my mother would teach piano and I would help her with translations for her classes. That was how we got by until I left for Xiamen University to improve my Chinese and further my education in sinology. It is certainly one of the most beautiful universities in China, located next to the sea, complete with rows of palm trees and colorful flower blossoms, providing a very creative atmosphere for studies. It was there that my life took a new turn. I found a new passion for Chinese ethnic studies and indigenous photography. Together with university colleagues under the guidance of a well-known anthropologist Peng Zhaorong, we led ethnographic research in the remote villages of western China.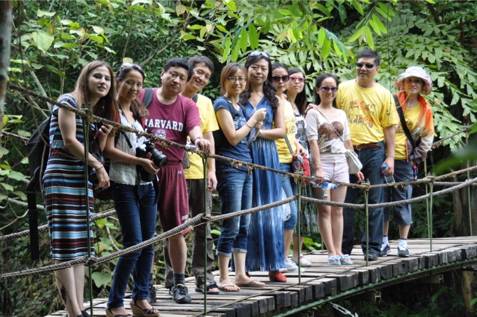 With professor Peng and anthropology department students during our ethnographic fieldwork in Honghe, Yunnan.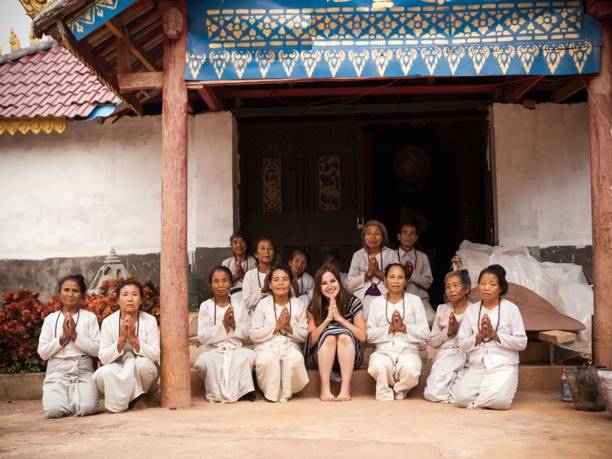 With a very understudied indigenous community of Buguopeople in Xishuangbanna after their weekly Buddhist service in a local temple.
I was captivated by the culture and the profound spiritual life of many indigenous groups, such as the Yi of Liangshang, the Miao of Guizhou and Guangxi, or the Wa, Hani and Bulang people of Yunnan.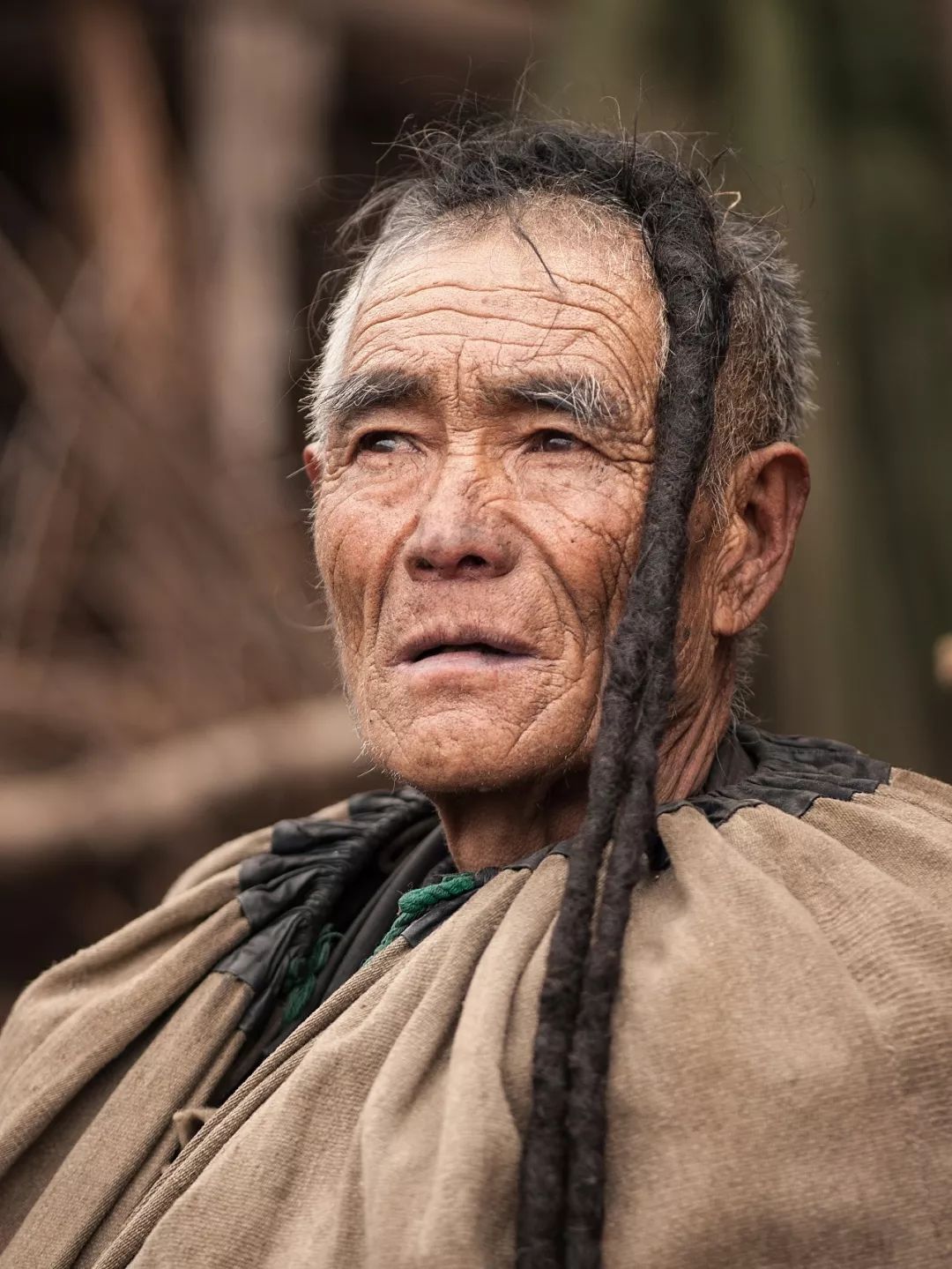 An Yi man with a tianpusa dread.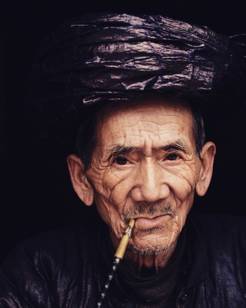 A Dong elder from Guizhou Xiaohuang.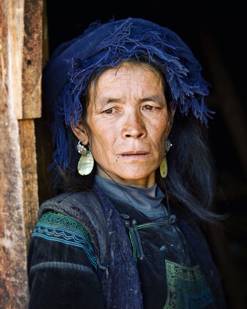 The wife of a Yishaman from Meigu Liangshan.
Liangshan Mountain in Sichuan is a center of the Yi culture. It's a place that gives me a sense of the unity of man and nature. I am also routinely humbled by the kindness and sincerity of the people I met along the way.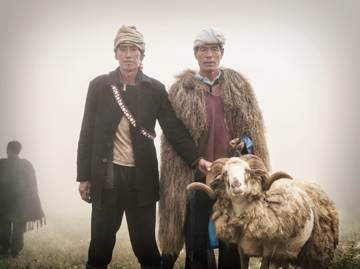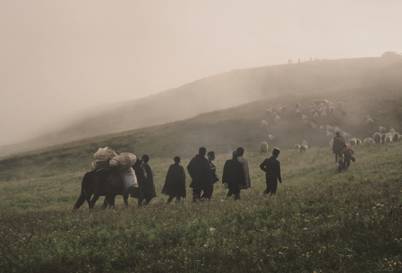 Liangshan people and landscapes.
I remember seeing a Yi woman for the first time. It was 5:00am and I was feeling exhausted as we drove through the stiff roads of entangled mountains in northern Yunnan. It was then that I noticed her – an enigmatic indigenous woman in the midst of the blue morning haze. She was dressed in a striking traditional clothing: a massive square-shaped black hat and a colorful layered skirt reaching the bottom of her feet. She looked at me with a gaze bold and enticing. Her skin was dark and rough from the excess sunlight, her strong hands stained in the dust from the work in the fields. All I wanted was to capture this moment forever and to learn more about who these people were.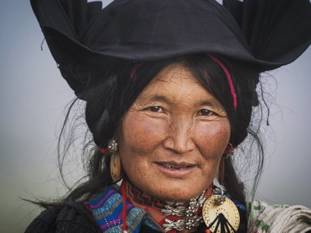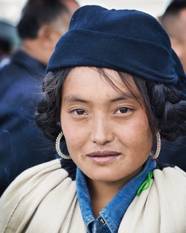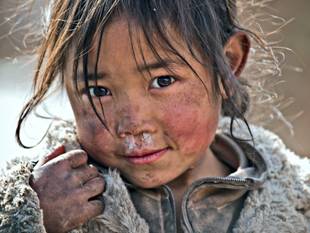 The Yi of Liangshan.
The rich spiritual life and well-preserved traditions found in many ethnic communities of China taught me to appreciate the beauty of cultural diversity even more. I started using photography as a way to share my fascination with the indigenous people. These seemingly ordinary villagers are the representatives of extraordinary cultures and many of them certainly have a unique story to tell. By documenting their daily life, their joys and sorrows, I hope to raise awareness about them and let the outside viewer feel a greater sense of connectedness with them and their world.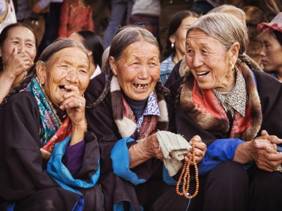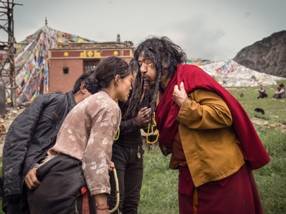 Indigenous scenes from Qinghai province.
I was outdriven by the thought that maybe, in a decade or two, with all the urbanization and globalization taking place, we would not be able to see such authentic indigenous life any longer, so it is important to capture as much as we can right now.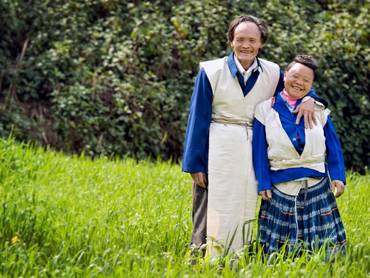 Big flowery Miao couple in Western Guizhou.
In Xiamen I acquired the basics of the Fuzhou traditional art of storytelling, Fuzhou Pinghua, from one of a very few officially recognized Pinghua inheritors, Wang Qiuyi. She showed me how to operate Pinghua tools, such as a distinct Fuzhou drum tail used with a jade ring, as well as other more common props such as the handkerchief, a fan, and a small wooden stick that's also referred to as a "wakening-rod". I was able to incorporate the typical rhyme and the beat of Fuzhou Pinghua in my storytelling, which has caught the judge's attention and helped me move through the preliminary rounds during CCTV's 2009 Annual Chinese Language Contest.
Putting my Pinghua skills to the test on CCTV's 2009 Annual Chinese Language Contest in Beijing.
I was offered a full scholarship at Tsinghua University, Institute of Humanities. I accepted the honor and came to Beijing. Tsinghua was phenomenal. I got to mix and mingle with exchange students from some of the most prestigious universities, which opened my eyes to the world even more.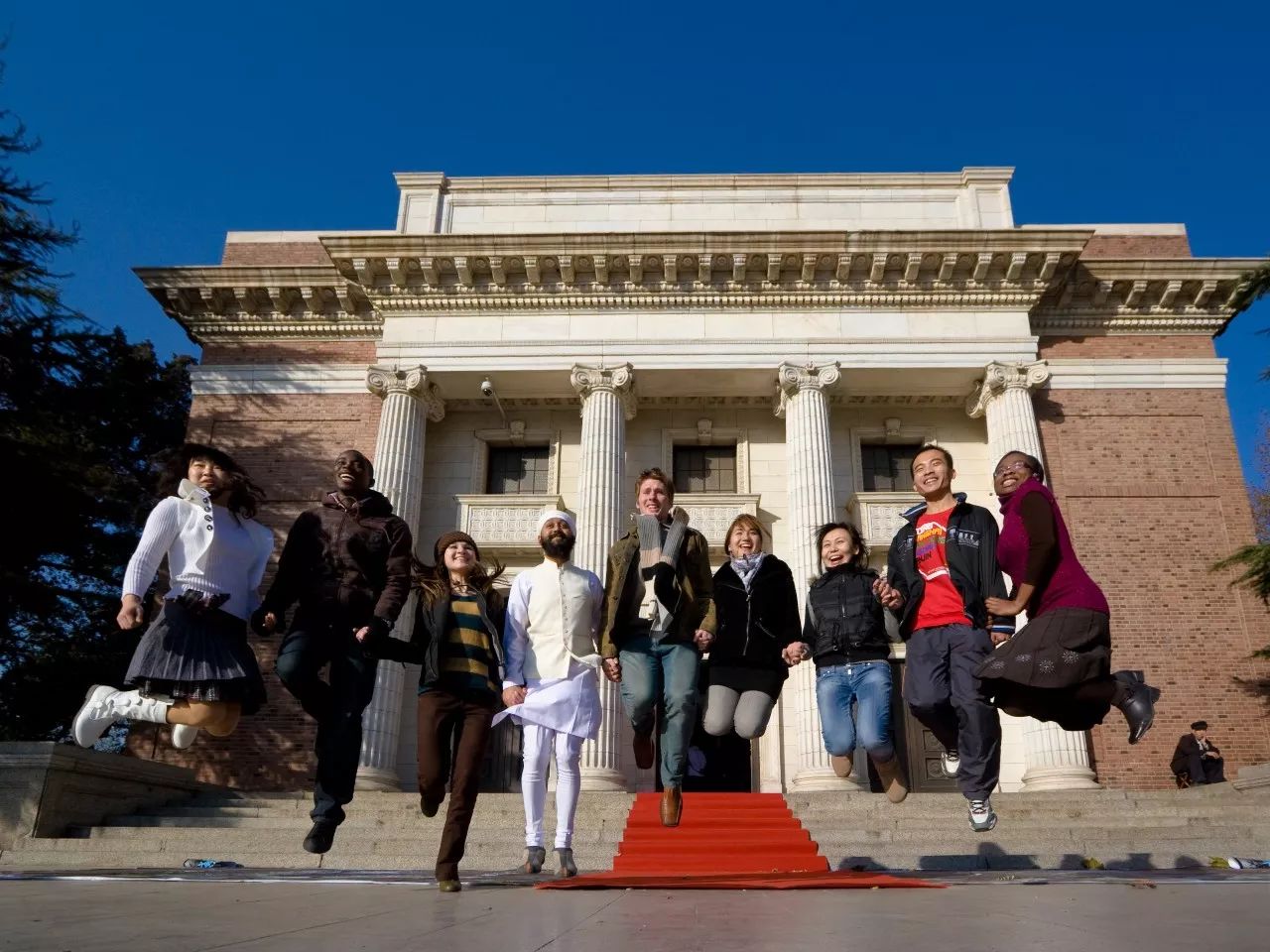 I focused on the areas of modern Chinese intellectual history and Sino-Russian literary and academic exchange. Russian literature has always been popular in China so for my Master's thesis, I wrote about the Beijing Institute of Russian Language and the Translation of Russian Literature in 20th Century China. I discovered that the Beijing Institute had hosted many many outstanding Russian scholars, and yet so little has been written on it's contributions to an intercultural dialog between the two nations.
Hosting CCTV 4's 快乐汉语 (Happy Chinese) was a great experience for me. I remember being nervous as I started this job. "Could I do it? Hosting in front of a huge TV audience, all in Chinese?" But I became more confident with experience, and after that, I barely looked back. We filmed at least 100 episodes of 快乐汉语 all over China, meeting many inspiring individuals, experts in visual and performing arts, handicraft, traditional medicine, and other fields of knowledge.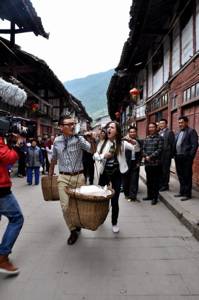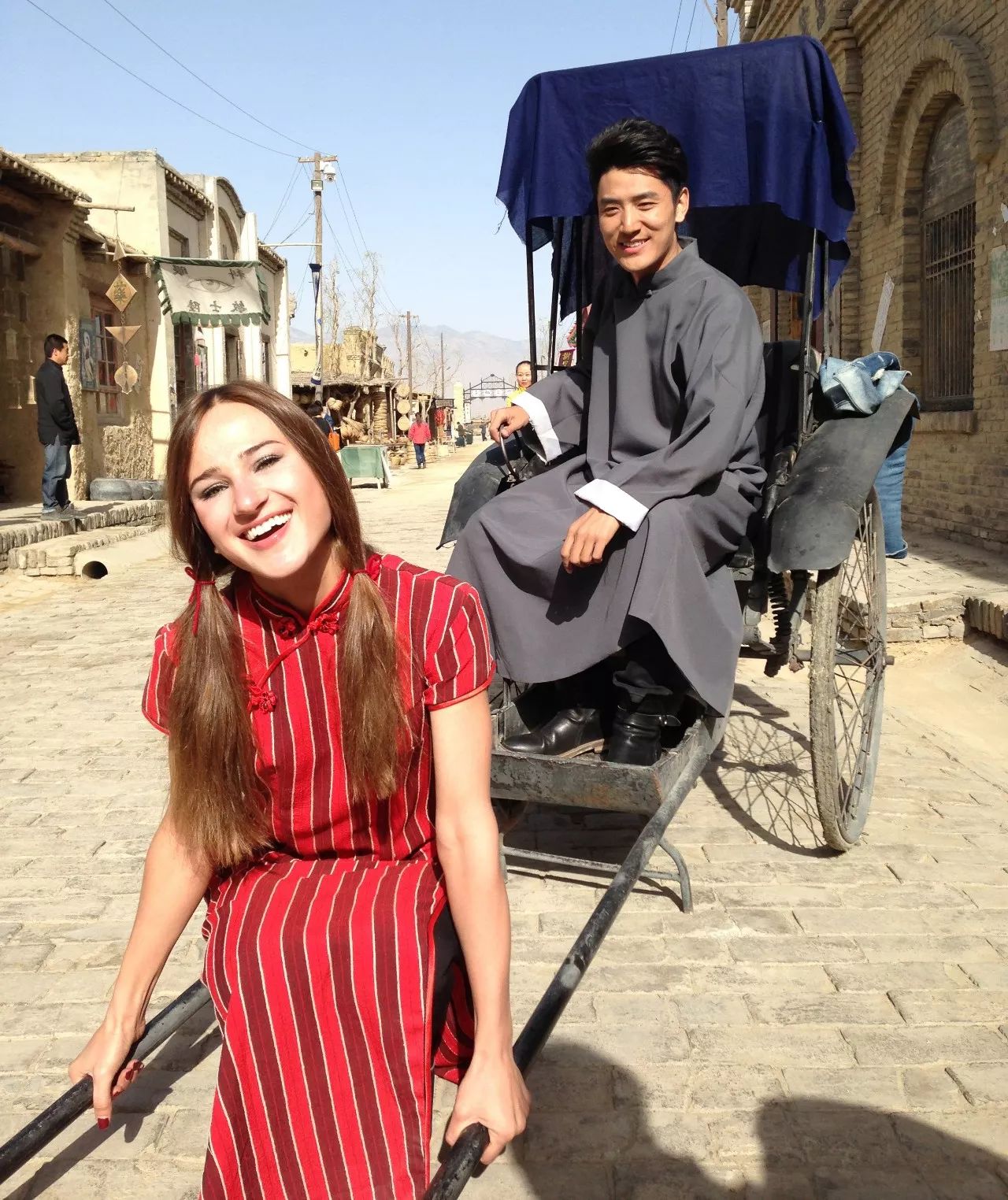 Hosting 快乐汉语.
快乐汉语 was to fulfil my early dream to tick off as many Chinese provinces and places as possible on my personal map. One of my favorite was a trip to the vast grasslands of Inner Mongolia, the encounters with northern tribes. Mongols, Evenks, Oroncos, Daurs, and a unique Russian community on the bank of the Argun river, which retained some very archaic rural Russian traditions, but had adopted a lot of from Chinese culture as well.
After more than a decade in China, I am still very fond of exploring this country. There are always new things to see. I keep being impassioned with showing the world what amazing discoveries lie in China, both its natural resources, as well as man-made creations. In the past few years, I have worked closely with Lisa Deng and Vivi Pang – co-founders of the arts and crafts promotion company Great Seed. We produced web content introducing Chinese folk arts and crafts to local and global markets, carried out a series of fundraising events in support of local artisans. In April of 2015 we organized the US Art Tour, featuring a number of great Chinese artists and craftspeople in New York and Boston. We had a great success exhibiting their works at the Chinese Center in the UN Headquarters. We conducted several trips filming the artisans' life and work in Guizhou, Yunnan, Sichuan, and Hunan. I find that many local artists deserve greater recognition, both domestically and abroad. Raising worldwide awareness about them is a necessary step towards cultural safeguarding and preservation.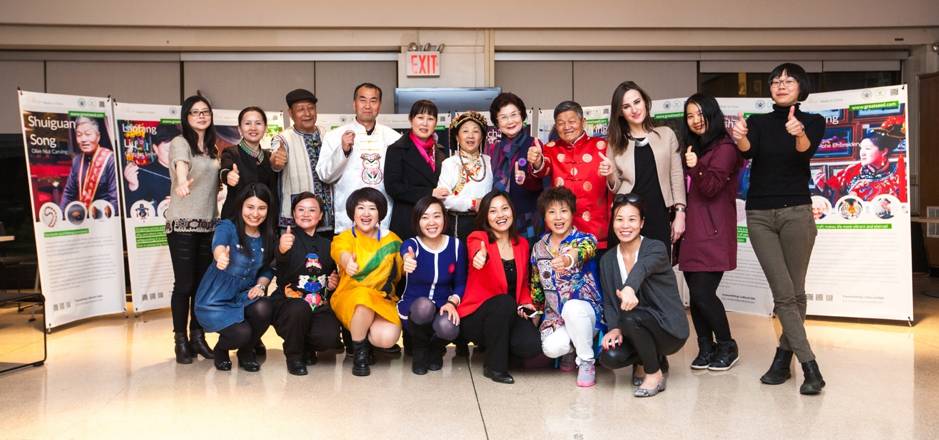 Great Seed Arts and Crafts Expo Tour team at Columbia University in NYC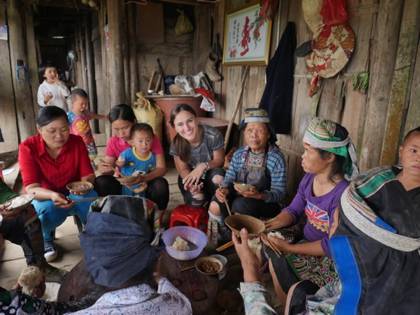 The expanding embroidery trade, fueled by a growing tourism industry has enabled many women to become successful entrepreneurs. Long limited to the position of a housewife by conventional, patriarchal social order, they now make significant contributions to their communities. Today, many of these women are able to provide for their families, enjoying greater Independence and professional productivity than ever before. They're sharing their unique stories of challenges and victories on the way to empowerment and self-realization. This is what I find meaningful and what inspires me. It's why I am doing what I do.
To describe China today I would use the words dynamic and development. The streets have changed. Everything is tidier, cleaner, and quieter – there is something that I do miss about the old hubbub of the '90's, but It gives me great happiness to see many lives improving as the time goes by.